What are ECAs?
Via their export credit agencies (ECAs), governments support companies in their business activities by lowering the financial risk. ECAs offer a wide range of guarantees, insurances, loans and credits to private companies. This makes it easier for these companies to gain access to finance, especially from banks. At the international level, ECA guidelines are established at the Organisation for Economic Cooperation and Development (OECD).
ECAs are wrecking the climate
Between 2018-2020, the OECD countries provided USD 41 billion a year in export support for fossil fuels. Five times as much as their clean energy finance. Oil and gas received 71 percent of all OECD energy finance, compared to 5.4 percent for coal.
According to the International Energy Agency, exploitation and development of new oil and gas fields and the building of new coal-fired power stations should have stopped already in 2021 to prevent the world from exceeding safe limits of global heating. Moreover, research shows that 60% of already existing fossil fuel extraction needs to be shut down. However, governments continue to support new and existing oil, gas and coal projects via their ECAs.
The front runners and laggards
COP26 in Glasgow marked a breakthrough in terms of ending public support for fossil fuels. At the conference, 35 countries and four public finance institutions signed on to the Glasgow Statement to end international public finance – including export credit – for unabated fossil fuels by the end of 2022 and instead prioritize support for the clean energy transition. The signatories include big contributors to fossil fuel investment such as Canada, UK, USA, Germany and Italy.
This is a major achievement. If all 39 signatories meet the Glasgow Statement commitment, USD $19.4 billion per year could be shifted away from fossil fuels. However, some countries have been backsliding on their COP26 commitment. They invested in gas and liquefied natural gas to replace Russian supply during the Ukraine war and secured ECA support for some major fossil fuel projects in the coming years.
Three times a year, the OECD members meet to discuss guidelines for their ECAs. At the next meeting, governments have the opportunity to ensure a level playing field for ECAs by starting negotiations on ending all ECA support for fossil fuels.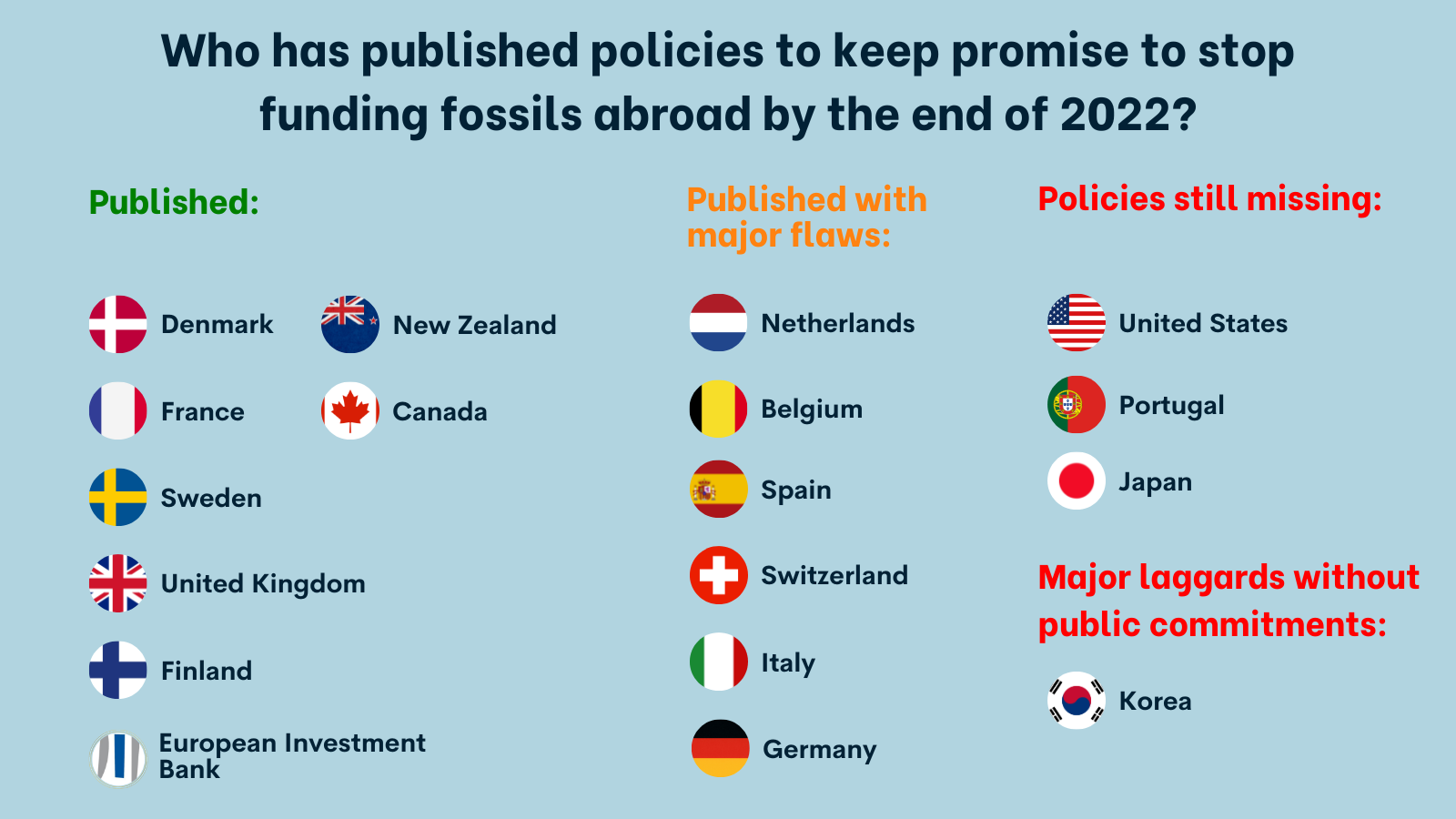 ECA laggards, annual average 2019-2021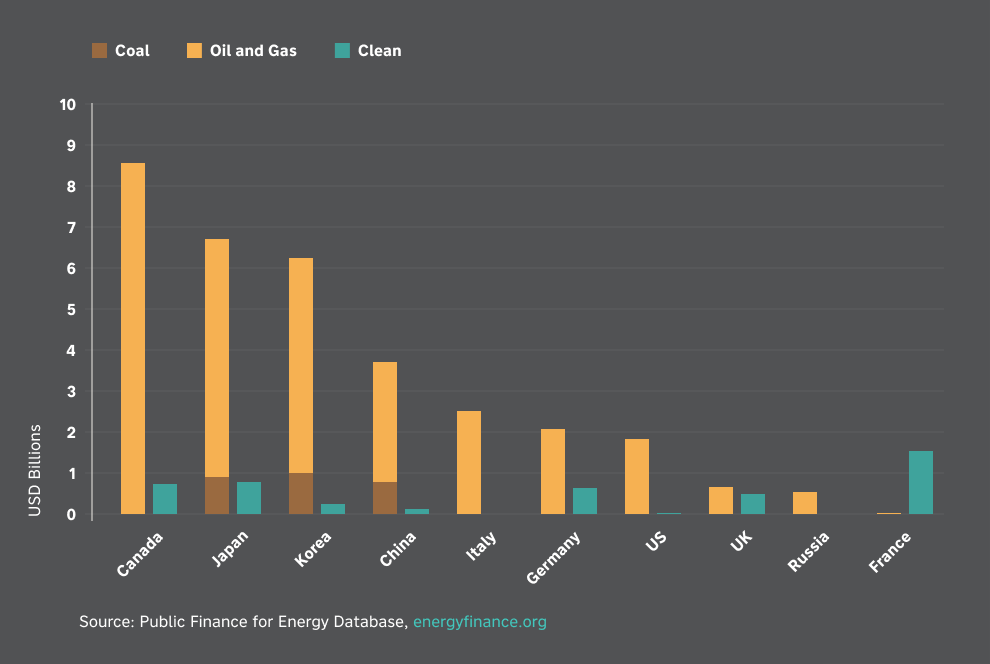 How are ECAs undermining a just transition?
Fossil fuel support from ECAs benefits corporations based in the Global North and impedes the necessary just energy transition in the Global South. Fossil fuel development is concentrated in the Global South, as are the associated harms to local people and their environment. New oil, gas and coal projects lock in fossil fuel dependence for these countries' economies, despite the fact that many of these countries have excellent potential for renewable energy and could therefore skip a fossil fuel based energy system.
People around the world are calling on governments to shift to renewable energy sources. It is key that this energy transition is a just transition. This includes local ownership of renewable energy projects, protection of the environment, respecting human rights and the rights of Indigenous Peoples in renewable energy projects, the creation of local jobs and access to energy for all. ECAs have no developmental mandate and since they are mainly export oriented, they fail to address local development needs. Many of their products are not subject to adequate environmental or human rights safeguards. This makes their role in any transition towards renewables problematic.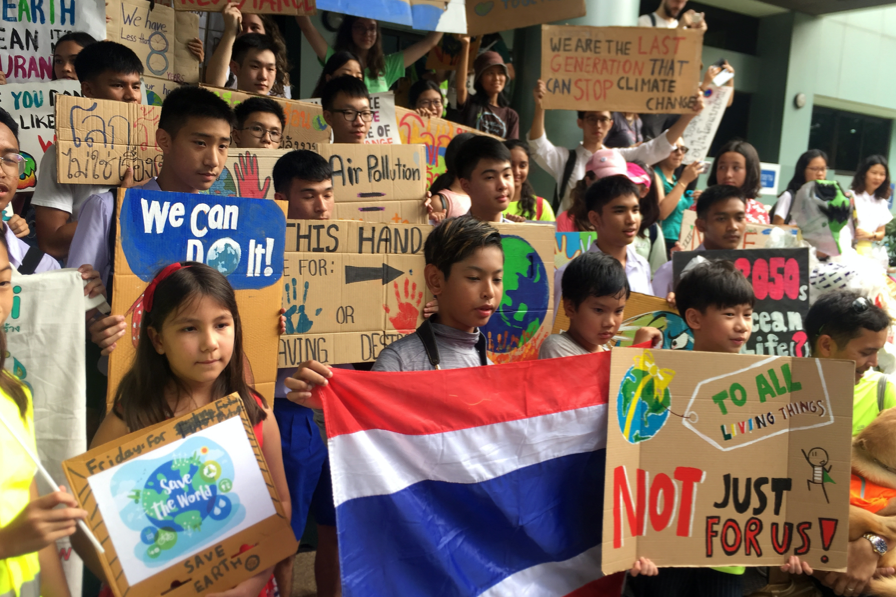 Organisations around the world ask their governments / ECAs to: